For Halloween and other dress up events, many people opt for a traditional yet mystical wizard costume. Not only can a wizard outfit be created with items you may already have on hand, the lure and mysticism behind wizards makes piecing together select garments an exciting task for all ages no matter your budget. Some wizards decide to wear heavy and ornate velvet costumes in vibrant and dazzling colors, while other wizards choose the humble route and wear assorted rags and layered cloaks to evoke a true Renaissance feel. While wizard styles can vary tremendously and there is no right or wrong style of dress, there are a few wardrobe basics that will help maintain an authentic wizardry style no matter your preference or budget.
Making Your Costume
The following supplies will help create a unique yet authentic wizard Renaissance costume. If you're crafty, you can sew any of the following props yourself or save some money by thrift shopping instead of purchasing your costume pieces new. If you've got the time prior to a dress up function, use it wisely and start shopping as early as possible. Bear in mind many of the following costume props are available during the bustling Halloween season, although many sell out quickly leaving little selection due to the popular nature of wizard costumes. Start your wizard supply hunt early for the following basics:
Costume Basics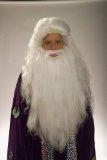 Cape or long velvet cloak
Hat
Magic wand
Hemp, linen, cotton or burlap fiber peasant/poet top
Drawstring pants in an earthy palette
Men: White or silver wig and beard if you're opting for a mature look, otherwise select a dark and brooding wig
Women: Long haired wig in any color, although opting for white or silver will create a more mysterious effect
Torn and tattered book
Candle or lantern
Pipe
Get Creative
Once you have your basic costume supplies, it's time to get creative.
Layer on your burlap top and pants and tie a wide tattered rope around your waist to secure the garments.
Opt for a tall wizard hat or a velvet and embroidered hooded cloak to cover your wig.
Pair your outfit with props such as a tattered opened book or a tobacco pipe to create an old world feel to your costume.
While not always necessary, white face paint can help create a more mature complexion, as well as elderly latex face masks.
Press-on fingernails also add an eerie and mystical touch to wizard reenactments, so be sure to invest a bit of thought into the small details of your costume for best results.
To shed a little light on your magical night, carry a lantern or a battery operated candlestick and perfect your ghastly stare.
Transcend Time as a Renaissance Wizard
Wizards and sorcerers evoke many feelings and are perfect for mystical gatherings or fan society events such as Lord of the Rings, Camelot or Harry Potter reenactments. With these easy and affordable wizard costume basics, you can transcend time with the tip of your wizards hat!