Riveting Costume Contact Lenses
Costume contact lenses are perfect for creating arresting, even jarring, special effects.
Whether getting ready to make a splash at your next Halloween party or just in the mood for something a bit different, these contact lenses are the perfect finishing touch.
Here, these green contacts are essential for creating a scary, green goblin, or a fearsome, fairy appearance.
Compelling Moulin Rouge Style
Moulin Rouge style is all about the can-can girls, but why not create a costume that exposes the club's darker, underbelly?
These bright blue contacts are perfect at creating a ghostly, otherworldly, feel.
Beautiful Zombie
No matter the overall look of your costume, brightly lit, white eyes are sure to garner plenty of attention!
Subtle Beauty
If you love the look of costume lenses but still prefer to look like yourself, then why not consider a more subtle color?
This way, you'll look ravishing, but you'll look like yourself.
Fiery Style
With a look this fiery, you don't want your contacts to compete, but rather to complement your overall style.
This look does that perfectly.
Sea Creature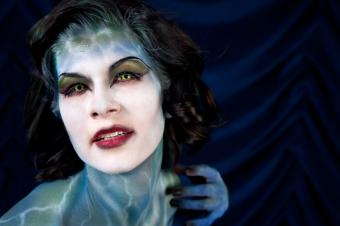 These bright green contact lenses allow this model to look as if she's a sea creature from the planet Neptune.
This is quite an arresting look!
Dare To Tango?
These amazing contacts will have plenty doing a double take as they wonder, do I dare to tango?
This style is one of romance tinged with danger.
An Opalescent Finish
Finally, if opting for a monochrome finish, be sure to choose lenses that will stand out. These blue contacts do the trick well.
Need even more ideas to complete your overall look? If so, check out the Halloween Effects Contact Lenses slideshow.