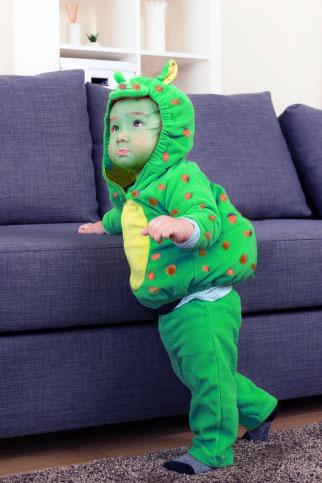 On cold, blustery nights, warm Halloween costumes can take the bite out of an early winter.
Warm Halloween Costumes
Whether you are an adult searching for the perfect costume for a brisk fall evening or a parent wanting to keep your little one cozy, there are many great ideas for warm Halloween costumes. Depending upon where you live, Halloween can be quite chilly. If you are going to a costume party that is indoors, then you needn't worry about keeping warm, but if your Halloween plans include spending some time outside on a cold night, finding a warm costume will keep you from cutting your Halloween fun short.
Warm Halloween costumes typically include some form of a sweat suit or pajamas. For additional warmth, you can dress your little spooks in thermals underneath their costume. Little girls can wear thick tights as well. For more ideas on how to keep you and/or your kids warm this Halloween, keep reading.
Monster Costume
For a monster costume, start with an olive green, dark brown, or black sweat suit. Purchase some felt in an alternate color, and cut out shapes for wings, a tail, and spots in a variety of sizes. Add a larger oval piece for the tummy. Sew or carefully hot glue the felt onto the costume. Add face paint to color the face the same shade as the sweats or felt. You can get even more creative by adding fake warts, monster teeth, etc.
Dalmatian Puppy
You can actually make this costume for any kind of puppy, but Dalmatians are always a hit. Purchase a white sweat suit and some black pieces of felt. You can also use black fabric paint instead. Cut circles in the felt and hot glue them to the sweat suit, or paint black spots on the suit instead. Purchase a black headband, and glue on ears that you've cut from the felt, then paint a puppy nose and whiskers on the face.
Ladybug
This is an adorable costume for a little girl or a grown woman! Start with a red sweat suit top, or you can use a long sleeve red body suit and black stretch pants or thick black leggings. Using black felt, cut large circles that you can glue on the top. Add a black headband to which you can attach black pipe cleaner antennae. Paint the nose with a black spot as well.
Jellyfish
In search of a sea creature costume? Get creative and whip up a cozy jellyfish costume. To make the costume: take a clear umbrella, and tape or glue bubble wrap to the outside. Cut small strips of bubble wrap or silvery material, and glue to the ends of the umbrella to make tentacles. The umbrella is held over the head with the tentacles falling down around the face. You can also paint the face to blend in with the hooded sweat shirt. To finish the look, wear a light colored hooded sweat suit under the following outfit. Tip: Pink looks great on little girls.
Mummy
Keep your little monster warm this Halloween with a "mummy suit". Start with a white sweat suit or thermal underwear. Then, take long sections of fabric in flannel or terry cloth for additional warmth. Beginning with the head, wrap the sections around the body, tucking in loose ends before you start a new section. Keep going until each section is covered, then paint the face white.
Snowman
Purchase a hooded white sweat suit a couple of sizes larger than needed. Stuff the sweat suit with polyfill or some other type of stuffing. Paint the face white as well. You can paint on rosy cheeks and a button nose for a frosty added effect.
Sleeping Bag
You can't get much warmer than this! Take a sleeping bag, and invert it so that the bottom is on the head. Cut out a hole for the face, and holes for the arms. Wear additional warm clothing underneath, and you'll be nice and toasty as you trick or treat!
Adults can also borrow this idea for helping the kids trick-or-treat, and you can even purchase a wearable sleeping bag to make the costume even easier.
Laundry Basket
Cut the bottom of a plastic laundry basket so that it will fit up over the hips and add straps to the top of the basket. These will be hung over the shoulders like overall straps. Now, fill the basket with lots of clothing. Wear a sweat suit underneath that matches the color of the basket.
Pillow
Finally, try this simple Halloween costume, and you'll stay nice and warm all night. Take a body length pillowcase, and cut a hole for the head in the end of it, and cut holes for the arms. Layer lots of clothing underneath, like several sweat suits, a jacket, etc., then pull the pillowcase over the layers. You could attach a small teddy bear for an added effect if you choose.
---
These are just a few of the many warm costumes you can create for yourself or your kids, so get creative and have fun!