Twilight Costume Ideas
Twilight costume ideas take advantage of the ethos and pathos of Stephanie Meyer's Twilight saga. The tale follows the life and love of Bella Swan, a young human girl who moves to Forks, Washington and becomes involved with a vampire family and a local Indian boy who also becomes a wolf.
Discover Twilight Costume Ideas
There are so many characters to choose from in the Twilight saga. Victoria, for example, is a flame haired vampire that hunts Bella and Edward for their part in the death of her mate James. For Victoria, you need thick red hair and glitter dusted skin that will shimmer like diamonds.
Jacob Black
Actor Taylor Lautner plays the Quileute Indian Jacob Black. He is a good friend to Bella. Jacob also harbors a secret, he can shape shift into a wolf.
Jacob evolves through the series, his hair is long initially and later he cuts it short after he begins shifting. His style of dress is typically work shirts, white cotton tank tops and jeans or jean cut offs.
Edward Cullen
Actor Robert Pattinson portrays Edward Cullen, the vampire with the diamond skin and the abilities to read minds. It is Edward's mutual obsession with Bella that drives the love story between the two characters.
Edward Cullen is probably the easiest Twilight costume choice. Both guys and girls can dress like Edward and look great. Edwards's hair color is medium length in rich brown with golden highlights. His style is the "just got out of bed" tousled look easily created with gel at the roots of the hair. Edwards' clothes vary, but one of the most recognizable outfits for a costume is a tailored white shirt, with black jeans. Edward's face is pale, with redder lips than normally found on guys. He wears eyeliner to give him a brooding look. Because the vampires of Twilight shimmer in the sunlight, you should focus on pale skin and a faint dust of glitter to the skin. If want to complete the Edward look, go for contact lenses in red or tiger stripes.
Edward Wig
Buy Now"
Robert Pattinson's hairstyle may not be for everyone, but this Edward wig can help you begin the transformation. Once you have the hair and skin down, dress in simple white t-shirts, slacks and open button down shirt. Edward seemed to favor the high-quality fabrics courtesy of Alice's shopping.
Edward's eyes are often a tawny gold color. If you are going for the fully authentic look, you may need to invest in a pair of cosmetic contact lenses.
Bella Swan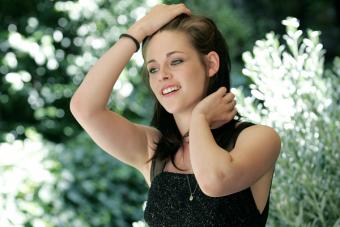 Bella is the hardest Twilight character to copy because she is an ordinary human with your basic girl next-door look. Her clothing style most of the time is nice fitting worn jeans, a preppy layered shirt or tailored jacket, some silver dangly jewelry and understated makeup. Bella's silky blue prom dress is unique and recognizable and makes a favorite twilight costume.In addition to the famous blue dress, Bella carries a beaded cream color shawl to the prom. Her bracelet is silver and turquoise. Bella's hair color is a rich brown easily recreated for your Twilight costume with a semi-permanent hair color. Opt for long loose curls and smokey eye shadow to complete the Bella look.
Bella Wig
Buy Now"
This Bella wig can transform any hairstyle into Bella's wispy look. Remember in the first three novels, Bella is a human, but becomes a vampire in Breaking Dawn. So if you want to dress up your Twilight costume idea with Bella the vampire, you should go for the wig, pale skin and a dusting of fine glitter.
Following her transformation, Bella's eyes would be the traditional vampire red for a few months. Cosmetic contact lenses can help you create that effect.
Alice Cullen Wig
Buy Now"
Alice Cullen is a vampire, so a pale complexion with rosy or red lips is definitely necessary. Alice's hairstyle is chin length and spiky. In the movie, she has very dark brown hair with red highlights. To dress like Alice, you can go for the sexy sleek look, or the 1960's movie star look with large sunglasses and a scarf.To recreate the Alice Cullen look, wear tight fitting black leggings, sexy black high heel shoes, and a black tight fitting stylish shirt. For jewelry, choose a tight choker necklace which you can make out of a strip of black material or ½ inch leather.
For Alice Cullen hair, add reddish brown streaks with temporary hair paint. Alice has tiger striped golden eyes. If you are able to, wear tiger striped contact lenses. Include a set of plastic vampire teeth to enhance the costume when you are feeling hungry and want a human snack.
Alice Choker
Buy Now"
Accessories like this Alice choker are available at many costume and retail outlets. The wild affection fans have for the Twilight saga means a proliferation of items that you can pick up to accent your outfit just right.
Discover more vampire costume ideas with: