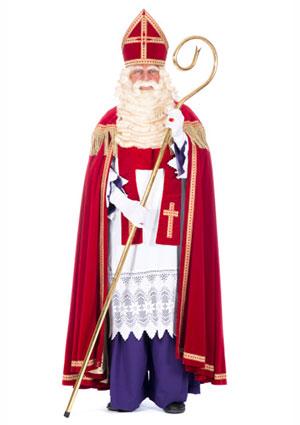 Santa Claus traditions aren't the same in every part of the world. Depending on the country and the time period, some Santa Claus costumes will look very different from the American version. Thomas Nast, an American cartoonist in the 19th century, drew the first jolly Santa Claus wearing a fur-edged jacket, pants and boots. In other countries, Saint Nicholas wears bishop's robes or an embroidered gown.
Traditional Santa Looks Throughout the World
Holland
Holland celebrates a day of feast for Sinterklaas (Santa Claus) on December 6. There, Sinterklaas appears as a bishop with a luxurious white beard. He rides a white horse, and wears a long, red robe trimmed with golden braid.
His tall hat is a bishop's mitre and he carries a shepherd's staff or crozier as a march of his office. Dutch children put out wooden shoes filled with carrots and hay for Sinterklaas' horse, and if they are good, they may get candy and gifts from the saint.
Purchase:
If you want to dress like Sinterklaas, you can purchase a mitre, a crozier and bishop's robes online at SantaSuitExpress.com. The costume includes a gown, velvet cape, folding mitre and fits up to a 54" chest and costs $450.
Purchase the wooden shoes or 'klompen' for $20 from Nelis' Dutch Village.
Germany
Father Christmas leaves candy and gifts in children's shoes. Today, his costume is just like any modern Santa, but an original Father Christmas costume consisted of a red, white or brown robe, trimmed with fur. Sometimes the robe is velvet; other times it is rough cloth.
Father Christmas has a long, wispy white beard, and he may wear a pointed hat and carry a wreath of holly. He always carries gifts in a big sack, filled with dolls and wooden soldiers.
Purchase:
France
The French Pere Noel (Father Christmas) may dress like a bishop, an American Santa, or he can wear a plain robe of red or brown, tied with a rope. Pere Noel travels with his donkey, named Gui (Mistletoe), delivering gifts of small toys and coins. Children leave their shoes beside the fireplace, stuffed with hay for Mistletoe.
Purchase:
Pere Noel is often pictured as an old-fashioned Santa. This costume costs $265, and is a long, plush red tunic edged with white fur, belt and boot covers.
Sweden and Norway
In Sweden and Norway, the traditional Santa may have descended from the belief in gnomes. In Sweden, a holiday gnome is called a tomte and in Norway, he is referred to as a nisse. The Santa gnome is called a Julenisse (Yule Nicholas) in Norway, and a Juletomten Yule gnome in Sweden. In both countries, the gnomes deliver gifts to good children, who dress in red and white in honor of the magical beings. The gnome's long, pointed hat is the most distinctive feature.
Purchase:
Germany
Kris Kringle's origins were German, and he became popular in the early German settlements of the United States. Some referred to him as Pelz-Nickle or Nicholas in Furs. Although Kris Kringle was sometimes shown dressed in brown fur, he often wore a red robe. Kris Kringle might carry a small Christmas tree and toys for good children.
Purchase:
Russia
Ded Moroz is the Russian Santa, and is also known as Father Frost. He delivers gifts to children at New Year's, and he wears a heavy, full, white beard, a red or blue robe and fur-topped boots. Sometimes his robes are embroidered with frost designs and his hat has large, curling horns on it. He is often accompanied by his granddaughter who is dressed in a glittering, frosty gown.
United States
The U.S. Santa became famous in the 19th century, when stories about his gift giving began to appear in books and newspapers. Thomas Nast drew the first jolly Santa, but it wasn't until the 1930s that the Santa we know today appeared with his red suit, fur trimmed hat and black, shiny boots.
Purchase:
SantaSuit Express carries many Santa suits which come with a lush beard and fluffy suit, including one that fits up to a 44" chest for $220.
Additional Options
If purchasing a costume is not within your budget, you may be able to find one at a costume rental shop or you might want to make your own. Most Santa robes are simple to sew. You can download a pattern and choose velvets or brocades, add braids and edgings to suit the particular type of Santa costume you want to wear. A wonderful tomte outfit can be sewn with this pattern from Oliver and S. Make a red top, cap and stripped leggings for your elf.
Whether you dress up like Santa, Sinterklass, Kris Kringle or a tomte, the spirit of Christmas will be shared with everyone.