The toga is a staple for many Roman, Greek, and other costumes, and a toga costume shop or rental store can provide various options for the perfect historical garb.
Popular Toga Costumes
Togas are loose fitting wrap-like garments that were the formal dress for ancient Etruscans, Romans, and Greeks. While the most common toga was a plain white robe, embellishments, accents, and colors were also added to the garment to represent different things, such as a broad purple stripe for those of a high ranking, purple and white togas for kings, and togas with scarlet stripes for priests. Dark togas were worn for mourning, but aren't typically seen in today's costumes.
Types of Toga Costumes Available at Shops
Modern Roman and Greek toga costumes are usually white, often with sashes or overlays, and may have various embellishment such as velvet borders or gold detailing. Both short and long and men's and women's toga styles are available. Although not as common, some shops also have children's toga costumes as well. Togas may be wrap style or tunic-like in style. Available accessories often include faux laurel wreaths for headwear and sandals.
Some of the most popular toga costumes available from shops include:
Basic toga costumes
Couples toga costumes
Spartan soldier toga costumes
Ceasar/Emperor costumes

Roman Emperor Nero
Julius Caesar

Greek/Roman god or goddess
Finding Toga Costume Shops
Finding a shop that specializes in togas can be a challenge. Fortunately, many of the large costume retailers have sections of the store or website dedicated specifically to toga costumes and other Greek, Roman, and Egyptian costumes and accessories. The following costume shops have a shop section dedicated to these types of costumes:
Special Toga Sections from Large Costume Shops
Specialty Toga Costume Shops
If you're looking for something for re-enactment or theater purposes, a costume shop specializing in togas and other Roman and Grecian apparel might be the answer. Although the cost can be significantly higher than more inexpensive togas designed for Halloween and parties, these costumes have the appeal of authenticity, quality, and close attention to detail.
LaWren's Nest: A costume shop specializing Roman, Greek, and Celtic re-enactment costumes that sell wool and linen citizen and senatorial toga costumes.
Garb the World specializes in historical costumes, and sells a variety of togas. Costumes are custom made, affordably priced, and made in the United States.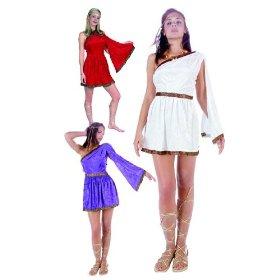 The Toronto-based Theatrix Costume House offers high-quality rental toga costumes, but you'll need to call about availability.
Shops for Sexy Togas
For sexy toga costumes, specialty lingerie stores are the place to go. The following sell toga costumes on the skimpy side:
More Toga Tips
Since togas are one type of costume that can be worn loosely fitted, having a costume that is slightly large isn't a disaster like it may be with other types of costumes. However, still be sure to check the return policy when browsing the toga costume shop, especially when buying online.Prices vary from around twenty dollars to several hundred dollars or more for high-quality reproduction costumes. If you can't find the toga costume at the price you want from a costume retailer or specialty shop, consider hiring a seamstress to design a custom toga, or - for parties and informal events, you can even consider making your own costume using on online toga making guide such as: