If you need to create a Tinkerbell costume for Halloween, a play or musical performance, a Peter Pan costume party, or another fun event, you don't need to find a source for fairy dust. Surprisingly, it's easy to make your own Tinkerbell costume or buy a pre-made outfit. Either way, you can capture the enchanting magic of this popular Disney fairy.
Making a Tinkerbell Costume
The basic Tinkerbell costume has a few main elements, each of which is fairly easy to make if you get creative. Have fun creating your ideal fairy costume and expressing your creativity.
Green Dress
The main component of any Tinkerbell costume is the green dress. It should be strapless (or sleeveless for little girls), short, and have a leaf-like uneven hem. You can create this look by purchasing a short green dress and cutting an uneven, triangular hem with scissors.
If you have trouble finding a green dress in the size, style, and color that you want, you can make it from scratch. Simply select any dress pattern from your local craft store, and choose a green fabric that meets the criteria on the pattern envelope and is similar to the color of Tinkerbell's gown. The following patterns would make great Tinkerbell costumes if sewn in pale green:
Simplicity 1876 is the perfect strapless Tinkerbell dress for adults. It even features a tiered skirt.
Simplicity 1925 is actually based on Tinkerbell's dress and is ideal for toddlers and children.
Tinkerbell Tutu
A variation on creating an entire dress would be to make a simple Tinkerbell tutu and wear it with a tube top or tank top in a shade of green. You can easily make your own fairy-inspired tutu with the following supplies:
Two yards yellow tulle
Two yards green tulle
White elastic, one inch wide
Green satin ribbon
Silk flowers
Scissors, hand sewing needle, thread, and hot glue gun
Cut the tulle into strips that are six inches wide and about two and a half times the desired length of the tutu.
Cut the elastic to fit comfortably around the waist, and hand-sew the ends together securely.
Begin tying the tulle onto the elastic, alternating yellow and green. Continue until the entire elastic is covered and the tutu is as full as you'd like.
Tie the green ribbon into a bow and sew it onto the tutu at the waist.
Hot glue the flowers on as desired.
Fairy Wings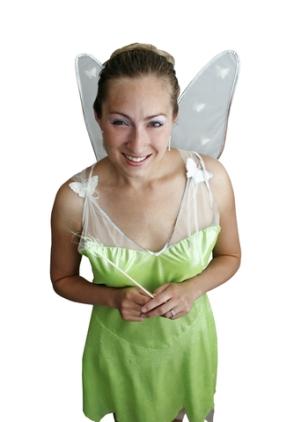 You can make your own fairy wings with the following supplies:
Four metal coat hangers
Four yards of green tulle
Rubber bands and duct tape
Silk flowers
Two large safety pins
Scissors and hot glue gun
Form the metal coat hangers into four wing shapes. The top two wings should be more pointed, while the bottom two should be rounded.
Grasp one wire wing and wrap it tightly in tulle, gathering the tulle at the place with the wire ends join together. Secure it with a rubber band, and trim off any excess tulle. Further secure your work with hot glue. Repeat with the rest of the wings.
Arrange the wings as desired, and secure them together with duct tape.
Securely tape the safety pins near the place where the wings join. These pins will allow you to attach the wings to the dress.
Use hot glue to cover the duct tape with silk flowers.
Magic Wand
No fairy costume is complete without a magic wand. Tinkerbell's wand is traditionally a white or green stick, but you can add a little extra magic by dipping it in glitter. To make your own, buy a length of dowel, and spray paint it white or green. Before the wand is dry, drop it in a large bag with a loose gold glitter. Allow it to dry completely before you begin working magic.
Buying a Tinkerbell Costume
If you don't feel like making your own Tinkerbell costume, you still have lots of great shopping options. The following costumes will fit fairies in a range of sizes:
HalloweenCostumes.com has a great adult-sized Tinkerbell outfit. It features wings and a ruched green dress. Tinkerbell's wand is sold separately.
Party City offers an adorable Tinkerbell costume for little girls, featuring wings and a green and purple fairy dress.
Fantasy Toyland also has a sweet Tinkerbell outfit for kids. The dress is made of green and purple tulle.
Completing the Look
Don't forget to add a pair of green flats to your Tinkerbell outfit, as well as plenty of flowers. However, the most important accessory for your Tinkerbell ensemble is the famous fairy's feisty personality. With that and the right costume, you'll have captured the look perfectly.