Kids can get in on the Thanksgiving celebration when they dress up in costume. Turkey Day is the perfect time for children to don costumes for family gatherings, school plays, theater group productions, or day care dress-up days.
Great Children's Thanksgiving Costumes
Whether you want to get creative with a DIY option or purchase an adorable outfit, turning your child or student into a pint-sized pilgrim or an overstuffed turkey is fun.
Native American Costumes
Celebrate cultural heritage and the story of the first Thanksgiving by dressing up as a Native American. Indian costumes are lots of fun to make or buy.
You can make your own outfit using some basic supplies or purchase some truly beautiful costumes for boys and girls. There are even papoose-style outfits for the littlest members of your family.
Pilgrim Costumes
If you have a little sewing experience, you can make your own basic pilgrim costumes for boys or girls of any age by upgrading a few thrift store finds. Alternatively, you can try some DIY no-sew versions of these same outfits.
There are also lots of complete pilgrim outfits available for purchase, whether you need to outfit a boy or a girl. Most include:
Bonnets for the female costumes
Pilgrim hats for male costumes
Accessories like buckles and collars
Additional clothing needed to complete the look
Turkey Costumes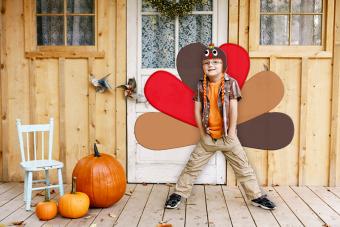 With a little creativity and a few basic craft supplies, you can make your own turkey costume to fit kids of any size. This easy costume comes together quickly and is perfect for kids of all ages.
If you're in a hurry or want a different look, you can purchase a variety of kid-sized costumes that are adorable and goofy. You'll even find turkey costumes to find babies and toddlers.
Outfits for Preschoolers
If you have a pre-K classroom or want your child to really get involved in this year's Thanksgiving dinner, you can make your own Thanksgiving costumes for preschoolers. Try projects designed for this age group, including a turkey headband, a pilgrim hat or bonnet, and an Indian headdress.

You can also buy costumes sized to fit preschoolers, including options for both boys and girls in a variety of different styles.
Costumes Add Magic and Meaning
Sometimes, the traditions surrounding Thanksgiving can be a bit difficult for kids to understand an appreciate. Costumes are a great way to make the history behind the holiday come to life, adding magic and meaning to this special season.