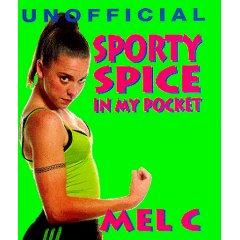 If you're part of a group that wants to dress up as the ever-popular girl-band the Spice Girls, a Sporty Spice Halloween costume is one of the easiest and most comfortable styles to recreate!
About the Spice Girls
Rather than opt for a single Hollywood costume character, many teens opt to dress in group fashions. The Spice Girls are a popular costume idea for good reason. While the Spice Girls made their debut in the British pop scene back in 1994, the band members have continued to spark media attention, especially Victoria Beckham (then Victoria Adams), who is still known for her refined, high-heel wearing fashion. The five Spice Girls members included Sporty Spice, Posh Spice, Ginger Spice, Scary Spice, and Baby Spice.
Melanie Chilsom/Sporty Spice was defined by her playful and athletic style. If you want to recreate this famous girl band, a Sporty Spice Halloween costume can be pulled together with items you probably already have in your closet!
Creating a Sporty Spice Halloween Costume
If you choose to dress as Sporty, chances are you'll be the comfiest gal in the group. Sporty lived in athletic wear, and if you have an athletic physique, you'll have the added benefit of showing it off! Here's a few ways to pull off the Sporty Spice Halloween costume flawlessly:
Hair: Sporty Spice had long brown hair that was usually pulled up in a high ponytail. If you have short or medium locks, the first thing you'll need to do is purchase a long hair wig. Many wigs can be purchased in pre-made ponytail styles, which will be much easier than buying a wig and trying to pin it up, since costume wigs are really not meant to be styled. A bright cotton scrunchie tied in the pony will enhance this era of fashion.
Tracksuit: A tracksuit is the most practical choice for Sporty Spice. A layered tracksuit will enable you some options should the weather be chilly come Halloween night. A brand new designer brand athletic tracksuit (Adidas, Nike, Puma) will ensure your Sporty Spice look is polished! Under the track jacket, you can simply wear a sports bra, or opt for a cotton tank or yoga top for added coverage.
Athletic shoes: You can wear whatever athletic shoes you're comfortable in when rocking a Sporty Spice costume, just make sure they are stylish and look good with the rest of your tracksuit. Platform tennis shoes, although not practical for sports, can be worn to add any desired height to your costume ensemble.
Temporary tattoos: Because Sporty Spice was the tough gal in the group, adding some temporary tattoos to your body will help you recreate her girl-power look. A few armbands, a hip tattoo, or even a lower back temporary design is the perfect accessory to complete Sporty's image.
Glitzy makeup: Just because Sporty was athletic didn't mean she was a stranger to cosmetics. Sporty played with a variety of fun makeup looks, including glitter dust and cat eye makeup. Add some sparkle to your Sporty Spice costume with playful and feminine cosmetics!
Get the Group Together
With a bit of planning, you and four others can make a fabulous Spice Girls pairing. Once you've selected who will dress as who, you can start scouring your closets to find the fundamental pieces for each of your individual costumes. While you can certainly dress as Sporty Spice in solo, dressing in a group is the best way to get recognized as this girl band, while providing plenty of girl-bonding and dress-up time amongst friends!