If you're dreaming of sexy genie costumes--and really, who isn't?--you're in luck, as these are one of the easiest costumes to buy or contrive. A little chiffon, a little glitter and a whole lot of wiggle and everyone will be thrilled you came out of the bottle.
Buy Sexy Genie Costumes Online
An excellent purveyor of sexy Halloween costumes is 3 Wishes. Buying from an online costume shop is tricky, as you can't try things on, but with genie costumes, you can't go far wrong. In one of these pieces, you'll fulfill at least two wishes without anyone even having to ask. Styles available include:
Technically a "harem girl" costume, but all the magic is there with a tie-back underwire bra in navy with gold decoration, beaded trim and optional extra padding. There are sheer, pale green open-paneled harem pants attached to a decorative waistband, sheer navy sleeves and a navy veil. Add a jewel in your navel and you'll be set. The costume is $154 and ships for free.
Very reminiscent of I Dream of Jeannie, this pink and red costume includes a decorative headpiece with a pink veil that hangs below the chin, a halter top in red with pink straps,pink mesh elbow-to-wrist sleeves and pink and red pants with a bit of sparkly trim. It features a bit more coverage than most such costumes, but still shows plenty of skin and is a bargain at $49.95 and ships for free.
This costume combines the best of both genies and belly dancers to make a very enticing piece. All in black, it features a bra top with a tie in front and long beads hanging from the bottom, a veil attached to a headband with more long beads, arm pieces that fit snugly just above the elbow and flare out to the fingertips, and a sheer, three-paneled skirt that is attached to a full-back panty with some trim. It is $44.95 and ships for free.
A very sexy genie costume in pink and black, this one includes a pink sheer long-sleeved top with a black peasant blouse and tiny pom-poms attached, a headpiece, and open-paneled pink mesh pants with black trim at the waistband. It is $53.95 and ships for free.
In a dark purple, this costume includes a halter bra with sequin and bead trim, chiffon harem pants with silver sequins, a metal silver and black belt and a decorative headpiece. It is $99.95 and ships for free.
Make Your Own Magic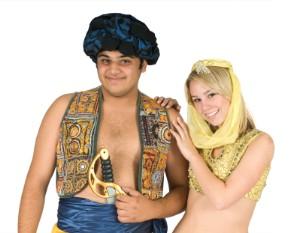 As you can gather from the descriptions, there is very little to making sexy genie costumes. You can, of course, rent a costume, but if you have some time and energy, you can save yourself some money and end up with a costume geared to your own personality and style, too. For the top, you want a halter or a bra. If you're a little handy with a needle, you can cover a bra with the chiffon or mesh you will use for your pants. If sewing is not your thing, look for a sports bra or bikini top, or even a camisole, in a color you like and trim it to suit you. You can probably manage a needle well enough to sew on silver or gold trim, but you can also attach sequins or other trim with fabric glue.
For the pants, either use a bikini bottom or fitted exercise shorts and attach a few long squares of chiffon. If you're in a hurry, safety pins will do. You can always blouse up the fabric in the corners to hide any lumps. Either tie, pin, or lightly stitch the corners together around your ankles.
If you don't want to sew on a lot of trim, you can usually find strips of fabric with ornaments attached in fabric shops. Have enough cut to tie around your waist, and then use the same ornaments to make a headband. Slip one last piece of chiffon under the headband, tuck your feet into some flat ballet shoes and you're all set for a magical party.