Even before the 2001 film became a smash hit, outfits in the style of Moulin Rouge costumes were high on the lists of many women's ideas for sexy Halloween and costume party wear. The saloon girl and can-can dancer may have become part of history long ago, but their clothes will always be in fashion.
Brief History of Moulin Rouge Costumes
Catherine Martin, the Academy Award-winning (with Angus Strathie) costume designer of Moulin Rouge! combed through the history and designs of the costumes well before she and Strathie sat down with pencils, paper and fabric.
As she describes them, the original can-can dresses, and particularly the bloomers that were worn underneath them, were designed to be much racier than commonly believed. As the film was PG-13, the effect was achieved with layers and layers of petticoats, straight out of a Toulouse Lautrec painting. This is a boon to anyone wanting to dress as a Moulin Rouge girl, because petticoats are not only fun to swirl, they also instantly flatter any figure, giving you curvy hips and accentuating your waist. Worn with a corset that tightens that waist and hefts the bosom, you've got yourself an hourglass figure, all thanks to a few layers of chiffon.
Buying Moulin Rouge Costumes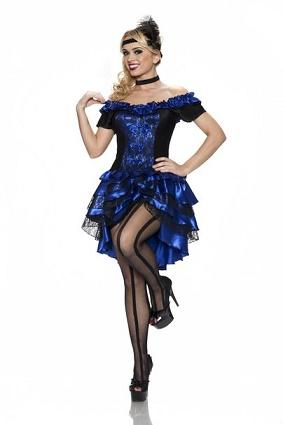 Any half-decent costume shop will offer can-can and saloon girl costumes of varying quality. Unless you have an excellent costume rental shop near you, if you want a good costume, you'll likely have to shop online or make your own outfit.
Online Shopping
The online store offering the widest range of Moulin Rouge-style costumes at fairly reasonable prices is Party City. The company carries adult and plus sizes, making it possible for anyone to find an outfit here. Many costumes can be found on the company's Moulin Rouge page, although several of them, such as the Flapper costume, are not from the same era. However, there are several showgirl, can-can and saloon girl costumes in varying color patterns, ranging from $45 to $110 and sure to turn some heads.
Racy costumes can be found at 3 Wishes, where you can get a red and black costume with a feathered headpiece, sequin-trimmed dress and incredibly sexy striped stockings. The costume is $64 and the shipping is free. They also offer a Saloon Gal costume.
Making Your Own Costume
The basic look of a Moulin Rouge costume is a breeze to create yourself. You may not necessarily save a lot of money, unless you're very good at sewing, but you'll have a costume that is pretty, sexy and individual. To achieve a Moulin Rouge look, you will need:
A corset or bustier
A petticoat or crinoline
A feathered headdress, although even just a few well-placed feathers or fake flowers will work just as well
Fishnet stockings or tights
Accessories to your liking
All these things can be found in thrift shops, costume shops, or on eBay. You can wear plain black tap pants or even short leggings under the skirt, and drape a piece of bright silk over the petticoat for extra color and interest. Plain black high heels are fine, but dance shops will also carry character shoes or Victorian-style boots that would be very right for the period. These can be worn with modern clothes as well, so they can prove a very good investment. Add a choker and some fingerless gloves and you're good to go.
The Moulin Rouge Community
If you want to get serious about your Moulin Rouge look, check out the Windmill forum, where "obsessive discussion of Moulin Rouge costumery is all the rage."
Discussions include "how long to make a can-can skirt" and specific queries about lace. They can be hard-core, but you can rest assured you'll get the exact answer you need and the high-kicking look you're craving when you follow the advice available here.