Where to Find Mardi Gras Costumes
Creating the perfect look for Mardi Gras is all about knowing where to shop. Whether you're looking for a Mardi Gras mask or a complete outfit, there are a few retailers that stand out from the pack when it comes to this unique type of party costume.
Five Great Places to Buy a Mardi Gras Costume
Mardi Gras Costume Shop
Mardi Gras Costume Shop specializes in looks for Mardi Gras as well as other fun events. There are looks for women, men, and children, as well as some plus size costumes. You'll also find masks and other accessories.
In general, costume elements are sold separately, so you can mix and match to make the perfect look. Prices are reasonable for this type of costume store. Expect to pay about $70 for a suede pirate coat and about $90 for a black burlesque skirt.
You can shop in person at Mardi Gras Costume Shop's brick and mortar location in Scottsdale, Arizona, or you can buy costumes online. You can also rent costumes for Mardi Gras. According to reviews on Yelp, past customers have an overwhelmingly positive view of this costume shop. They praised the staff's customer service skills, the easy shopping and return process, and the quality of the costumes.
Order processing at Mardi Gras Costume Shop is very quick; they can usually ship on the same day or the next day. Shipping speed varies by location, and express shipping is available. Other than certain personal items like wigs and hosiery, you can return anything within seven days for any reason. However, this store does not accept returns during the Halloween season.
Mardi Gras Outlet
Mardi Gras Outlet offers everything you need for your Mardi Gras celebration, including a full range of excellent costumes. They specialize in offering costumes at prices that beat other retailers. You'll find couple's costumes, food costumes, animal costumes, and more. There are looks for men, women, plus sized men and women, and children.
Typically, Mardi Gras Outlet sells costumes as complete looks, rather than separates. For instance, the Greek Goddess Adult Costume, which retails for $27, is a complete dress with empire waist and flowing sleeves. The Men's Elvis Presley Shake Rattle and Roll Jumpsuit costume, which retails for $93, comes with a shirt and cape, wide-legged pants, a sequined scarf, and a belt.
Mardi Gras Outlet is based in Baton Rouge, Louisiana, but they don't have a retail shop there. Instead, all orders are processed online. According to the Better Business Bureau (BBB), Mardi Gras Outlet is not BBB-accredited but also does not have any complaints from past customers. They have a BBB rating of A+. Website testimonials of past customers praise the quality of the costumes and the great customer service.
Your order will ship the same day you place it, and you can choose from several different shipping speeds. Costume sales are final.
Party City
Although they don't specialize in Mardi Gras, Party City offers a great selection of costumes for this event. You'll find a wide range of complete costumes, including the Adult Venetian Mardi Gras costume, which consists of a purple, green, and gold dress and retails for $40. The Parade Mardi Gras Jester costume is an even more elaborate look, featuring a giant jester's head, purple, gold, and green jumpsuit, and purple shoe covers and retailing for about $100.
Party City has locations all over the United States, and you can use the store locator to find one near you. For the best selection of Mardi Gras costumes, you may have the best luck shopping online. Consumer reviews vary by the store location, but according to Yelp, most consumers report that customer service is adequate and prices are very reasonable.
Orders ship the same day if they're placed before 5:00pm, and you can make returns at any Party City location or online within 30 days of purchase.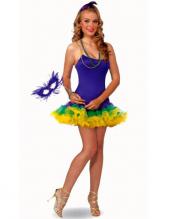 Costume Supercenter
Offering everything from wigs and masks to complete costumes, Costume Supercenter is another great choice for finding that perfect Mardi Gras look. There's a great range of looks for men and women of all sizes, such as the purple, green, and gold, long Mardi Gras Cape, which retails for $32. The Mardi Gras King Adult Costume is another fun choice, featuring a harlequin jacket and crown and retailing for about $55.
Costume Supercenter is based in New Jersey, but all sales go through the website. According to the Better Business Bureau, they are accredited and have an A+ rating and no complaints from past customers.
One of the most appealing things about Costume Supercenter is that they offer two-way free shipping. You can order the costume and try it on at home; if you don't like it, you can send it back for free.
Costume Discounters
Costume Discounters is another good source for Mardi Gras costumes. Although the selection isn't quite as good as other retailers, the prices are quite competitive. For instance, a complete Sexy Harlequin Mardi Gras Costume retails for about $42, including a short sequined dress, arm bands, and a crown hat.
Costume Discounters doesn't have a brick and mortar shop, so all sales are online. Users on Bizrate.com give them great reviews, particularly in the areas of customer support and on-time delivery.
This store also offers free two-way shipping and free returns.
Find Your Dream Costume
No matter where you decide to get your Mardi Gras costume, you'll have plenty of great shopping options for finding your perfect look. Take some time to browse the selection at several retailers until you find your dream costume for the big celebration.