Thrilling Costumes
Whether Halloween costumes are purchased or homemade, kids will have a great time dressing up and playing a character. No matter which direction you choose to go in, there are plenty of different ways you can create a costume your child will be thrilled with.
Fairy
Fairies make excellent costumes for little girls. Make your own costume from a party dress, wreath of flowers and some wings, or purchase the costume readymade in the image of a specific fairy.
Pebbles and Bamm Bamm
If you have two children or are dressing as a family theme, consider Pebbles and Bamm-Bamm from the Flintstones. There are readymade costumes available in a variety of sizes for both boys and girls, or make your own prehistoric costumes at home.
Boxer
Boxer costumes are easy to create for young boys. Gym shorts, a tank top, boxing gloves and an optional robe are all that are needed to complete this costume.
Alice in Wonderland
Many of the characters in Alice in Wonderland are easy to recreate in costume, including Alice. A simple blue dress with a white apron is all that is needed for the basis of an easy homemade costume, or purchase a complete outfit.
Alice in Wonderland Caterpillar
More Details"
In addition to dressing as Alice, another cute costume that works for both boys and girls is the caterpillar from Alice in Wonderland. This fun costume can be made yourself with or without a pattern, or purchase the licensed costume.
Ninjas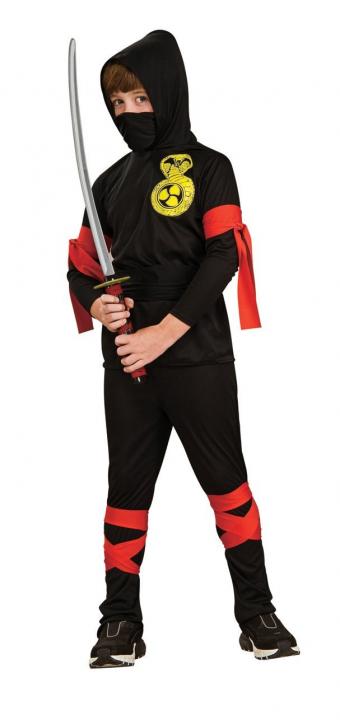 Buy Now"
Ninja costumes are timeless and always a great option for both boys and girls. These costumes are fairly simple to make; belted black pants and hooded shirt are all that are required, but there are numerous options to purchase as well.
Werewolf
Classic Halloween costumes like werewolves never go out of style. This costume is fairly easy to create; pair a ripped or torn shirt and pants with either makeup or a mask and pair of gloves.
Witch
Buy Now"
Another classic costume that never goes out of style is the witch. Witch costumes can come in a wide variety of different colors, patterns and styles, so its easy to make your own or to find a readymade costume that fits your child's tastes.
Harry Potter
Ideas for Harry Potter costumes can be nearly endless with ideas to pull from both the books and the movies. Create long black wizard robes, or simply give your child a lightening bolt scar, some glasses and a wand.
Dr. Seuss
Buy Now"
With the many different movies and books available, you have plenty of inspiration to take from Dr. Seuss. The Cat in the Hat is one classic example that is suitable for many children. Other ideas include Thing One and Thing Two for twins or Cindy Lou Who for girls.
Superhero
There are numerous superheroes and superhero costumes available for kids. From Superman to Super Girl, make your own costume or purchase the licensed costume of your child's favorite hero.