Interview with Nicole Grandelli of Party City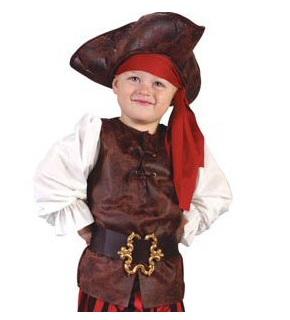 Nicole Grandelli is a Party City Party Pro. That means she can give you advice on Halloween costumes or costumes for any other occasion. We caught up with her recently to get the low-down on what's hot for Halloween and other costume-wearing occasions.
Popular Halloween Costumes from Party City
LovetoKnow (LTK): What are some of the more popular costumes this year?
Nicole Grandelli (NG): Ahoy mate, pirates are making a big splash this year! With this summer's movie release of ''Pirates of the Caribbean," trick-or-treaters across the country have expressed an overwhelming demand to emulate Pirates in all shapes and sizes.
What's great about choosing to dress up as a pirate is the huge selection of different pirate costumes. One might choose to be the Johnny Depp character, complete with dread locks, or one might opt for the Gothic Pirate or the Shipwrecked Pirate. If that seems a little too dated, there's always the Hip Punk Pirate to spark up the 21st century!
Supergirl costume courtesy of Party City
If pirates are not your thing, then maybe a superhero might do the trick! The Clark Kent/Superman is my favorite because it's a switch from the traditional Superman costume that has been seen in the past. But let's not limit crime-fighting to the boys; little girls who want to fight injustice can dress up as Supergirl or Batgirl. We expect to see a lot of them at your doorsteps. In my opinion, superpowers should never be limited to a specific gender!
LTK: Is there anything new this year that is surprisingly popular?
NG: The tween costumes are really big this year. Not yet a teenager but too old to want to be considered a kid... Party City has adjusted to this changing age demographic and these costumes are really taking off. Mystical fairies, darling devils and classic characters such as Miss Muffet, and Oz's own Dorothy will be shaking things up this Halloween season.
Zombies, crypt masters and the infamous Scream character will also be a hit with boys, both young and old. For those folks who want to be less frightful this Halloween season, then the Humor category is an excellent choice for the pranksters and funnymen. The Chick Magnet, Sumo Wrestler and Whoopi Cushion will be sure to generate some laughs and good humor during a season which is notoriously known for ghouls and goblins.
Accessories Abound
LTK: What about masks and accessories?
NG: So much to choose, so little time! For those of you do-it-yourselfers, your options are virtually limitless. With a tremendous selection of capes, robes, makeup, fingernails, jewelry, hats and bodysuits, your imagination just might get the best of you.
In addition to the accessories, wigs can also help complete any look. For example, a used car salesman wig or a long black witches' wig might complete a prepackaged kit or help expand upon your creative talents. Or, you might prefer to impersonate your favorite "Hotel Heiress" or "You're Fired" icon.
As for masks, what better way to express yourself this Halloween season than with a George Bush mask? If that doesn't seem to be your thing, then there is always Freddy Krueger or Michael Meyers to spook things up a bit.
LTK: I love all the kids' costumes with matching trick-or-treat buckets. Are there any other fun new things for kids?
NG: Pictures speak a thousand words. While kids are having all the fun this Halloween Season, a prepared parent gets to capture that fun eternally with a keepsake photo of the festivities. So why not preserve those Halloween memories of your Gothic Princess or your Debonair Vampire with a 35mm disposable flash Ghost Hunting Camera? Not only can you capture a moment in time, but just maybe you can find out if there is a ghost haunting your house, or at the very least, your photo.
If amateur photography is not your bag, why not try a fun tee shirt such as "Got Candy?" or "Slap me Some Skin" to get you into the Halloween spirit?
Safety Tips from Party City
LTK: Your site has a lot of great safety tips. What do you think is the most important thing when planning a costume, from a safety aspect?
NG: In order to ensure a fun Halloween season, safety plays an extremely important role in costume selection. For starters, make sure your child's costume fits properly and is comfortable because you want to prevent your child from tripping and entanglement while running door to door collecting their Halloween trick or treats.
Also, when shopping for costumes, wigs and accessories, purchase only those with a label indicating that they are flame resistant. As for nighttime visibility, many of Party City's costumes are manufactured with metallic fabric that shines brightly during the dusk and evening hours. In addition, for added safety, a parent can always secure strips of reflective tape on the costumes that are dark-colored so that they too can shine in the dark. Last but not least, let's not forget our Halloween Spinner Flashlights, Glow Necklaces and Safety Strobes for added lighting protection.
Halloween Fun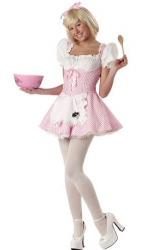 Miss Muffet costume courtesy of Party City
LTK: It seems like Halloween has become a much bigger holiday in the past few years, with more people going all-out on decorations and costumes. Why do you think people love Halloween so much?NG: According to the National Retail Federation's Survey, consumers are expected to spend $4.96 billion this Halloween, up significantly from $3.2 billion a year ago. The rise in popularity has led to the increase in handing out candy, dressing in costume, visiting haunted houses and the increase in celebrations. With that said, Halloween is a holiday that can be enjoyed by everyone, ranging from kids to adults. Moreover, it seems that everyone is getting in on the action and many parents are organizing events that are safe and fun for their children and are going to extremes to create the ultimate Halloween experience. With so many choices of decorations, activities and costumes, the possibilities are endless.
LTK: What's the key to throwing a great Halloween party?
NG: I think the key to throwing a great Halloween party is to follow these simple guidelines: be organized, be prepared, know your audience and have fun. I always believe that if you are guided by having a good time then your guests will, too, and your party will be a huge success.
LTK: What are you going to be for Halloween?
NG: Actually, I am still deciding between Little Red Riding Hood and the Vamptessa costume. However, it might come down to how much coffee I had that day and how perky I want to be!
Halloween Costume Selection
LTK: Any tips for helping people pick costumes?
NG: Costume selection is a very personal choice. For the Halloween enthusiast who has been looking forward to dressing up since last Halloween the choices are much easier. I think, when in doubt, look to the box office. Movies play a tremendous role in helping choose costumes and icons you might want to be. Another idea is to make an old idea new again.
If the thought of a witch or vampire seems a little boring, add your own personal flair to jazz it up a bit. Another important bit is to make sure that you choose a costume that is comfortable and ask yourself the question: can I wear this all night? Remember, Halloween is about having fun. If you are standing in a costume made of cardboard that doesn't allow you to sit or use the restroom, then maybe you need to rethink your options. Lastly, log on to Party City and complete the Halloween identity quiz, which will help you "Reveal your Inner Boo," which can help you identify the costume that best reveals you personality type.
LTK: Anything else you'd like to share with our readers about costumes and Halloween?
NG: Costumes are lots of fun, but sometimes you don't have the time to pull together the purr-fect look. However, it might be easier than you think! By simply pairing a little black dress with cat ears, a tail and some black gloves, then draw on some whiskers and a little black nose with some eyeliner, presto! you're the cat's meow!
As for the men, look no further than a spooky mask and a black shirt and pant to transform from day to night. Halloween is a fun time to celebrate with friends and family and feeling like you are part of the event only adds to the experience.
Related Halloween Costume Articles