With the release of new installments within the Halo game series, Halo ODST, Halo Reach and Halo 4, Halo costumes have increased in demand from fans and followers alike. The Halo game franchise has become one of the premiere games available on the Xbox 360, and with its popularity comes a desire for many fans to embody the lovable -albeit deadly- characters from the games.
Buy Costumes
Commercially available Halo costumes for both adults and children include two popular characters from the game series: Master Chief and Spartans. These characters make up the focal point of the storyline, so it makes sense for costume companies and those behind product licensing to market these two main characters.
Children and Teens
While many Halo costumes in the past were marketed only toward adults, more and more Halloween costume suppliers have made these costumes accessible to children and teens in recent years. The kids won't feel left out with these fun and smaller sized Master Chief and Spartan costumes in typical red or blue Halo fashion.
Deluxe Blue Spartan Costume

Party City - Fight for the Red or Blue Team with this fantastic teen Halo Deluxe Spartan costume. This jumpsuit features red/blue and black detailing and molded plastic armor plates. An officially licensed Halo costume, this set comes with a light molded plastic helmet and protective see-through shield. Sold online only, for $69.99 this is sturdy costume that may get you through more than one Halloween.
OfficialHaloCostumes.com - If your teen is looking for an official Master Chief costume, look no further. This creative replica jumpsuit contains molded areas and detailed chest, belt and leg armor. This costume comes with jumpsuit, armor and helmet, and fits teens with a jacket size of 34-36. Officially licensed, the costume costs $62.99.
HalloweenCostumes.com - Children can channel their inner Master Chief in this camouflage jumpsuit costume with printed body armor, soft-sculpted muscular structure, gloves and helmet. This costume only costs $44.99, perhaps leaving you with some extra cash to pick up combat boots and a toy weapon, which will complete the look.
Adults
A wide variety of adult sized Halo costumes exist. These range from basic and affordable costumes to over-the-top, comic-con styles which can be quite pricey.
Spirit Halloween - Spirit, known for their large selection of Halloween costumes, carries a Deluxe Halo Master Chief costume for adults for just $64.99 (online only). This officially licensed costume features a green jumpsuit, EVA molded armor and two piece helmet. You can complete the look with Master Chief gloves, dog tags and toy gun, each sold separately.
Costume Supercenter - Men can join the United Nations Space Command NAVY when they purchase this deluxe Halo Red Spartan costume for only $74.97. The black jumpsuit features printed armor detailing, and the costume contains red armor, shin guards, chest piece and more. Just add black combat boots to complete the look! (Also available in Blue Spartan)
Meijer.com - This Halo Supreme Master Chief is the mother of all Halloween costumes. The costume consists of a high-quality quilted jumpsuit, EVA molded armor, molded gauntlets, boot tops and two-piece deluxe Master Chief helmet. This suit is officially licensed and costs $669.99. Weaponry is not included but you can purchase officially licensed "prop" weapons to complete the costume.
Accessories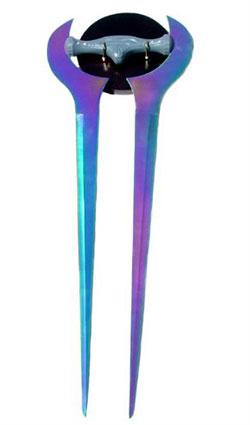 Consider these following retailers if you are in need of props for your Halo costume:
Any Time Costumes - In addition to a wide range of costumes, Any Time Costumes also has great Halo props for those who may be considering creating their own unique costume. Visit this site if you are in need of an Official 2-piece Halo Mask/Face Shield or Official Halo Gloves.
Amazon - Searching for Master Chief's Energy Sword to finish off your Halo costume? Check out this Halo 3 Energy Sword GEN II for just $49.99.
Making Your Own Halo Costumes
The other characters of Halo are not represented as much as Master Chief and Spartans when it comes to costumes available for purchase. Not everyone wants to be one of these characters, so this is where creativity needs to come into play.
Making your own costume, whether a dominant Halo character or popular supporting character, is the only real solution you'll have available. Since Master Chief is the dominant character. we'll start with him.
Helpful Tutorials
Let's face it, not everyone wants a cookie-cutter Halloween costume. The only solution is to make the costume yourself! If you have knowledge of injection molding and can fabricate your own armor then you are a step ahead.
Proper armor is crucial to most Halo costumes. Tutorials are available online on what armor is suitable and how to weather your armor. Half-Life Fallout will show you how to make a wearable Master Chief costume for under $30! It is made out of cardboard and other cheap materials and can be completed in 3 days.
Sgt. Major Avery Johnson
The Sarge is battle-worn and a seasoned veteran. He has been a member of Master Chief's team for years. He is a marksman and has been embroiled in his fair share of intrigue at the UNSC. If you want to be the Sarge for Halloween, consider implementing these key costume features:
Sgt. Major Avery Johnson has similar armor to that of Master Chief - you can create armor using the tutorials above and then apply it over standard military camo fatigues.
Add a Cuban style military cap and an Airman pin, much like that of a 747 pilot.
Remember, a cigar is never out of reach from the Sarge - add one to your homemade costume for that final touch.
Commander Miranda Keyes
Commander Keyes is the commander of Earth's ground forces. Commander Keyes aided in the assassination of the Prophet of Regret at the second Halo. She currently leads a guerrilla army against Covenant forces. Here are essential tips to keep in mind when creating her costume:
Her costume consists of a high-neck banded collar shirt - much like those worn by chefs. You can buy chef whites in blue and then modify them by adding three gold bands around each sleeve near the wrist.
Finish off the costume with matching pants and patent leather shoes.
To add final touches for Commander Keyes, pin airman medals onto her shirt.
Cortana
Cortana is a Smart Artificial Intelligence construct for the UNSC. Her character plays one of the game's most important figures in the Human-Covenant War. While a readily available Cortana costume has not yet been sold for Halloween, her character is portrayed by game lovers regularly at Comic-con and other conventions. To get Cortana's look for this Halloween, follow these tips:
First, you will need a light blue (almost periwinkle) one piece unitard. Consider searching eBay for appropriate styles.
Next, shop your local Halloween costume store for face/skin makeup in a matching blue color.
Hair is a crucial feature for Cortana's costume. In most pictures she has a short black bob style, although some choose to wear a matching blue or periwinkle bob-style wig.
Painting the unitard will prove to be your most time consuming effort in this project. Your creativity comes in to play when it is time to paint the unitard. Those with little painting ability have hired an airbrush artist to paint the fabric while they are wearing it. Review some photos of Cortana costumes created by other people to get inspired.
A Popular Costume Trend
With the Halo series selling over 50 million copies worldwide, it continues to be one of Microsoft's best-selling video games. Whether you decide to splurge on a pre-made Halo costume or get creative and make your own distinctive outfit, you are sure to get noticed. So grab your combat boots, some fellow gamers and take your love for Halo out of the virtual domain!