Fairy Costume Ideas
Fairy costumes are simple to make, requiring only about three or four simple accessories. Everything else is how you choose to dress it up.
For example, this spring fairy uses a brightly colored wig with faux flowers and leaves in it as well as a green skirt, face paint and wings.
Pink Fairy of Love
Bring your fairy dreams to life with this pink fairy of love costume. The dress brings to mind the ancient love goddesses while the pink wings, makeup and hair piece firmly cement her status as a fairy.
Get the look with a Grecian style dress that gathers under the chest, and small wings that sprout from just above this point. Add a little pink to the top hem of the dress with tulle and place a large pink flower in your hair.
Vampire Fairy
Some fairies are more gothic in their appearance and behavior like this vampire fairy. Veiling herself against the sun, her black wings and dress cast her in a slightly sinister light.
Use either black feathered wings, or black bat wings, paired with a black dress to get the look. Drape a long, sheer veil over yourself, allowing it to cover you from head to foot to finish the look.
Elaborate Storm Fairy
Your fairy selection can be as elaborate or simple as you choose. For this storm fairy, you need body makeup as well as face paint, a white wig, and a simple white and silver sheathed dress to create the effect.
The key to an easy-to-make fairy costume is creativity and a little pixie dust.
Glamorous Fairy
Some fairies are depicted as being glamorous, with beautiful gowns that match their wings and wands. This fairy costume calls to mind the fairy on her way to a ball, with a jeweled gown that matches her oversized wings.
This is an easy look to achieve; start with a tight-fitting dress, and add some jewels in lines across the front to give it some glamour. Add extra large wings and a flower for your hair.
Flower Fairy
Fairies are creatures of nature; take elements of nature and the season to help create your fairy costume.
This flower fairy uses a multitude of flowers and blooms as a headpiece, with more simple blossoms covering her dress. Use silk flowers for durability and sew or staple them in one or two colors over a dress and a swim cap to create the look.
Forest Fairy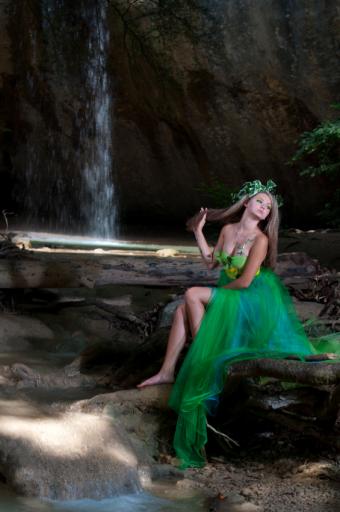 Many fairies live in the forest. Draw inspiration from the colors, light and textures from the forest for your fairy costume.
This green dress has the flowing folds and quality of the water she's sitting by. Use a tight corset as the base for this dress and add long lengths of different fabrics, like chiffon and tulle, to the back as a skirt. Make a wreath of silk flowers in the same colors for your hair.
Child Fairy
For this little woodland fairy, her wings are more rounded and simple. Younger children are better off with the simpler choices, particularly since they are more likely to remove them if they are bulky or too fancy.
Color Fairy
Bring your fairy costume to life with plenty of color. This lime green dress has a fitted bodice that allows the skirt to poof out dramatically, while the purple wings add some contrast.
Use a bold-colored dress for this look
Spray some color into your hair to match your wings
Use eye shadow in the same color as the dress to bring color to your face.
Woodland Fairy
This fairy is straight out of the forest in a green dress with ivy garlands. Use silk ivy leaves and staple or hot glue them together into long chains you can drape over your head and shoulders to get this look.
Consider finishing any fairy costume with a masquerade mask to add a little mystery.