Originally used in classical Greek theater, drama masks have long been symbolic of the theatrical arts. These unique masks are available in a variety of forms today.
History of Dramatic Masks
Large, exaggerated masks were used in ancient Greek theater. Greek masks were designed with several functions in mind: to depict and worship their gods and goddesses; to illustrate facial expression, character, and mood in the large arenas; to assist the actor in projecting his voice with the exaggerated size and shape; to allow actors to quickly change characters when playing multiple roles. The famous dual theatrical symbol of comedic and tragic masks is derived from ancient Athenian theater.
During the Middle Ages, masks were also used with medieval costume in religious cycle dramas to dramatize characters. Masks during this period were also exaggerated and grotesque when used to depict Satan and his demons.
During the Renaissance period, dramatic face coverings were used for comedic purposes. These, too, were exaggerated, but often were ridiculous and carnivalesque in nature as opposed to the medieval drama designs.
Reproduction Theater Masks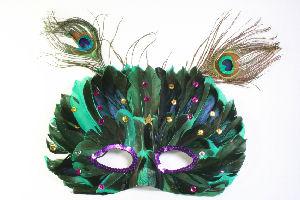 Historic masks were created various materials, such as clay, wood, and cloth and later, papier mache. Today reproduction masks are available in carefully crafted papier mache, neoprene, leather, and other materials. Professional artists and mask makers can create wonderful reproductions of ancient Greek and other historical masks that can be used in classic plays and historical theater. High-quality masks can be expensive, and are often custom-made. Resources that sell reproduction theatre masks include:f
Theater Masks for Mardi Gras
In addition to using reproduction masks for theatrical productions, Mardi Gras is another event known for its use of theatrical drama masks. The Mardi Gras festival, which is thought to have originated from ancient Roman tradition, is still celebrated with festivities that include many people wearing fanciful masquerade masks, beads, and other adornments. Many costume shops, party stores, and specialty retailers sell masks for Mardi Gras, including Masks and Make Believe, Mardi Gras Outlet, and Mask Parade.
Classical Halloween Masks
For Halloween and costume parties, a drama mask, perhaps along with an accompanying costume, can be a highly original choice. Classical theater masks or masks of classical deities are available from mask and costume shops and specialty retailers. Choices for drama costume masks might include:
Bacchus, the Greek god of wine, perhaps with a toga costume
Other Greek gods/goddesses
Classic tragic or comedic masks
Split two-toned mask, symbolic of tragedy and comedy
Jester masks
Exaggerated carnival masks
Greek hero/king masks
Shakespearean masks
Making Children's Drama Masks
A fun way for children to learn about theater and its rich history is through creating their own drama masks. These may range from using simple materials to help young children make masks to more complicated processes and lesson plans for older students. They can be used for art, history, or drama lessons. Resources for making children's dramatic masks include:
Drama Themed Mask Items
There are hundreds of items with drama mask themes perfect for gifts, home décor, or just as an expression of one's involvement in or love of theater. These include personal items such as jewelry, key chains, apparel, and other ornaments. Many home décor items are also available, such as mask sculptures for wall décor, freestanding mask sculptures bookends, artwork, and keepsake boxes. Check department stores for items of this nature.