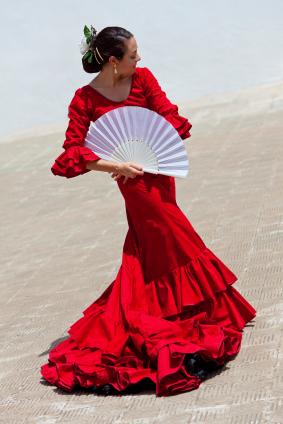 The beauty and magic of dance is enhanced by appropriate dance costumes. Each style of dance has different costumes that reflect the art, movements and traditions of that particular dance genre.
Online Shopping and Costume Resources
Whether hosting a pageant, planning a dance school recital, or other event, finding the right costume at the right price can be a challenge. From ballet dancers to lyrical, tap, jazz and belly dance, online shopping and costume resources such as the list below can help find the costume that meets your needs. Be sure to check sizing guides on individual sites, and take time to get accurate measurements to ensure proper fit. For children, you should also assume some growth between the time you take the measurements and when you'll receive the costume.
What to Look for in Dance Attire
When purchasing dance attire, check for
Correct fit
Ease of movement
Comfort
Quality of material
Good craftsmanship -- sequins are firmly attached, etc.
Desired style
Before You Make a Purchase
Before you make a purchase, it is important to:
Check if the dance retailer has a return policy, and if so, what it is.
Clarify care and cleaning directions.
Types of Dance Costumes
Dance costumes need to be able to accommodate the moves of the dance. Costumes differ depending on the style and culture, and there are hundreds of variations. Listed here are some of the major divisions and their costumes.
Ballroom
Ballroom dances include the waltz, tango, foxtrot and quickstep among many others. Women typically wear long gowns with full skirts. Gowns may be sleeved or sleeveless and are often beaded, appliqued or otherwise embellished.
Men typically wear straight slim lined pants and a long sleeved fitted shirt. Ties are used for some styles.
Belly Dance
Belly dancing, a type of Middle Eastern dancing, uses beautiful costumes that highlight the curves of a woman's body. These alluring costumes are based on a decorated bra top, skirt and belt. Skirts may be long or short. Jewelry, such as bracelet cuffs, armbands, earrings, necklaces and anklets are often part of the attire.
Latin Dance
Latin dances include the samba, salsa, flamenco, and ballroom style dancing among many others. These dance costumes typically follow the shape of the dancers' bodies. Men wear sleek pants and button or v-neck formal shirts. Women's costumes usually have form fitted bodices or tops. Halter style tops are popular.
Skirts and dresses are short or long depending on the style, and are often asymmetrical or contain side slits. Ruffles, ruches, and bright colors are common.
Freestyle
Freestyle dance includes such dances as disco, rock dancing, and hip-hop. Dance costumes are usually much less formal than many other styles of dance. Dancers are free to emphasize their personal style. Women often wear pants rather than in freestyle dance genres.
Country Dance
Country line, two-step, and square dancing costumes have a western feel. Denim and cowboy boots are characteristic costume pieces. Women often wear short or long full skirts, sometimes with petticoats, and puffed sleeve and western style blouses. Men are typically seen in collared button down and western style shirts and white or blue denim jeans or khaki's.
Theatre Dance
Tap, jazz, and musical or other forms of theatre dance usually have fitted apparel and costumes. Dance costumes for women include leotards and jackets, pantsuits, short dresses, and one-piece pant and bra sets connected with Lycra mesh.
Men may wear flared, fitted pants shirts that are fitted dance shirts that stretch with movement.
Swing Dance
Includes the Charleston, Jitterbug, Jive, and Lindy Hop. Men wear wide legged trousers, shirts and skinny ties. Women's swing dance costumes usually entail short trumpet, twirl or sailor style skirts or dresses.
Other types of costumes like ritual, ceremonial, and folk dances vary greatly in style depending on the culture and location.
Children's Dancewear
Children's dance, recital and competition wear is also dependent on the dance style. Leotards, tights and unitards are common. Bright colors and theme details are popular.
Halloween Dance Apparel
Halloween costumes for various types of dance are very common. Children and adults alike can be seen sporting various styles of dance costumes on this fun and frightful evening. Popular costumes include:
Belly dancers
Flamenco dancers
Tap and jazz dancers
Broadway dancers
Las Vegas show dancers
Can-Can dancer
Ballerina
Step dancers
Be Selective
Before you shop for dance wear, be sure of the way the clothes will fit. For pre-teens and teenagers, this may mean taking the time to try on a selection of outfits at a dance store to find the right clothing for your dancer's body type. Always verify the return policy of any item you purchase, online or off, to save yourself time and aggravation, if it is ill-fitting or rips the first time your dancer wears it. Being selective will help you and your dancer find the best all-around fit for your budget and their body.