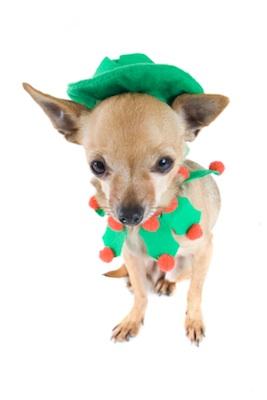 With the holidays nearing, you may be in need of Christmas elf costumes. Elves are Santa's little helpers and are often part of Christmas plays, pictures and parties.
Classic Christmas Elf Costumes
The classic Christmas elf is a dwarf like creature dressed in green with red, yellow and white accents. He may wear a pointy green hat and pointy green-toed slippers. Male elves often wear clothing similar to a Bavarian Swiss yodeler . This look is created with green tights or a green jacket over yellow stretch pants, which is similar to what Buddy the Elf wore in the Disney movie Elf. Female elves can dress in the same type of costume as a male elf, or in a sexy elf outfit with a miniskirt and low cut top.
Variations of the Christmas Elf
Be as creative as you want when dressing up in an elf costume. Elves don't always wear green, so think of other color variations such as red and white or gold and green. Women can dress up in sexy Christmas elf costumes by wearing a little green miniskirt and knee high black boots. Children can dress up as an elf wearing an adult sized green t-shirt with a belt around the waist.
Dog Elf Costume
Elf costumes are not just for people, but also for dogs. Check out this adorable elf dog costume from Amazon, which is available in small, medium and large sizes.
Making Your Own Elf Costume
Making an elf costume does not have to be labor intensive. If you have any combination of the following items at your disposal you can easily put together Christmas elf costumes.
Green sweatshirt or t-shirt
Red and white striped t-shirt
Green elf hat or a Santa type-sleeping hat
Red or green miniskirt or shorts
Suspenders
Long green t-shirt with a big black belt worn over green tights
Slippers or small black boots
Sewing Elf Costumes
Sewing a simple elf costume is easy and fun. You can even involve your child in decorating the tunic. To make the costume you will need the following materials:
Two yards of green or red felt
Red or green satin rope
Fabric or hot glue
Measuring tape
Jingle bells
Assemble the elf costume as follows:
Measure shoulders to approximately mid thigh
Measure width at the shoulders
Cut the large piece of felt to double the length and width of shoulders
Fold it in half and cut a hole big enough for the head
Slide tunic over your head to make sure it fits
Make a belt from the satin rope and tie it around the waist
Decorate and glue jingle bells along the bottom half of the tunic or along the collar
Tips and Accessories
Elf costumes are one of the easiest costumes to make during the holidays. Most people already own clothing that can be morphed into an elf's wardrobe. Add the following accessories to complete your elf outfit:
A black belt with a large buckle
Jingle bell collar
Jingle bell necklace or bracelet
Elf tools including a small hammer
Mistletoe
A Christmas toy