For those who want to be the dancing queen (or king) of the party, there's nothing more entertaining than diving into the 1970s and super-trooper ABBA costumes. ABBA never goes out of fashion, as indicated by the successful musical and movie Mamma Mia!. Whether you are looking for an outfit for yourself or for a group of four friends, dressing up like ABBA band members can be a lot of fun! If you're willing to lay out a little money or exercise your creativity, you can have an ABBA costume fit for a discotheque.
Shopping for Abba Costumes
Shiny satin and Lycra pantsuits and short, flared mini-skirts and go-go dresses made from the same material were the uniform of the music scene during the time that ABBA's albums soared to the top of the charts. Appropriate accessories include go-go boots, high heeled strappy sandals, and big hair wigs. You might get lucky and find what you need to put together an ABBA costume at a thrift shop or lurking in your own closet. If not, check out local or online costume retailers.
Make Your Own Costume
The easiest way to pull together four good 1970s outfits is to haunt thrift and vintage shops - or to look through your own closet if you might still have some items from the heyday of disco! If you're going to try to make your own costume, you may want to use an ABBA album or CD cover as a guide when you are shopping or going through your closet. The images of the band will give you a guideline to follow when pulling together your look.
Not everything ABBA wore matched, which gives you a lot of leeway. What you'd like is to create an idea of a common thread. So, for example, if everyone is in loose, flowy tops with a streak of bold color running across the chest, with the women in mini-skirts and the men in bell-bottoms, you'll be successful. The color can be added later with help from your local fabric shop. You can also buy matching appliqués, some of which can be ironed on.
While shiny suits with ruffles are always unquestionably ABBA, or Elvis, you're not bound to white polyester to make your look effective. Remember that accessories can make the outfit. Unless you can style your own hair into an appropriate disco look, you should consider disco wigs, as having the right hairstyle can make all the difference. From there, there, a bit of time and patience will yield an excellent group costume for you and your friends.
Purchasing ABBA Costumes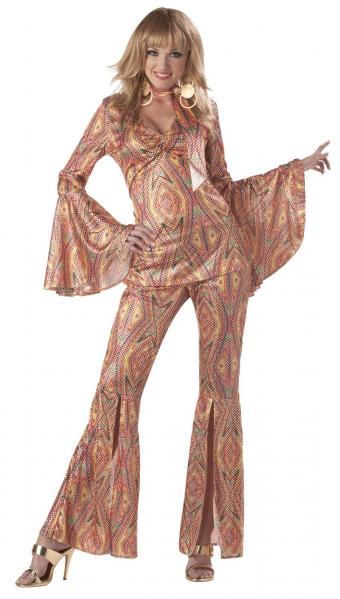 When searching for ABBA costumes online, you'll want to target your search on Disco costumes. Places you may want to look when shopping for disco costumes appropriate for dressing up as members of ABBA include:
Other stores that specialize in selling costumes
Have Fun and Dance the Night Away
If you aren't able to find an exact match, don't worry! You don't have to look exactly like the members of the band to pull of this costume. Just focus on ordering or finding the most outrageous 1970s outfits possible. As long as it's clear that you're dressed from the disco era, people will get the point of your costume. With silly shoes, a wig, a Swedish accent and a good attitude, you'll still wow the crowd. Go ahead and start memorizing the lyrics to Fernando and "Dancing Queen" now so you can act the part as well as wear the look!